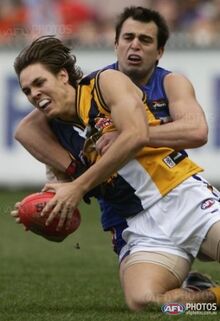 McDougall fights for possession. Photo: aflphotos.com.au
Date
Sat, 6 August 2005 (2:10 PM EST)
Score
WBD 21.14.140 - 14.13.97 WCE
Brownlow
3 L.Gilbee (WBD)
2 N.Eagleton (WBD)
1 C.Grant (WBD)
West Coast's patchy form continued with a poor loss away to the Bulldogs, who burst out of the blocks with a seven-goal first quarter, three of them coming from veteran Chris Grant who finished with six majors for the game. After trailing by 43 points at half time West Coast fought back into the contest in the third quarter, but in a sign that it was not their day Daniel Chick was denied a certain goal by the three-quarter time siren that would have cut the margin to under six goals. Chris Judd did his best to lift his side with 26 possessions and two goals.
| | | 1/4 time | | 1/2 time | | 3/4 time | | Final |
| --- | --- | --- | --- | --- | --- | --- | --- | --- |
| Western Bulldogs | | 7.3.45 | | 13.9.87 | | 17.11.113 | | 21.14.140 |
| West Coast | | 2.4.16 | | 6.8.44 | | 10.12.72 | | 14.13.97 |
Goals: Hunter, Judd, Sampi 2, Cousins, Fletcher, Lynch, Matera, McDougall, Nicoski, Selwood, Staker
Best: Judd, Fletcher, Cox, Braun, Wirrpanda
Injuries: Matera (groin)
Reports: Chick for rough conduct against C.Grant
Milestones: Kerr 100th game, Morton AFL debut
Named sides
Edit
In: Morton
Out: Rosa
Late change: (WCE) Rosa for Stenglein (foot); (WBD) Birss for Ray
New: Mitch Morton (Claremont/Lake Grace JFC)
From the papers
Edit
The West Australian
Edit
"By not being tough enough at the Dogs' runners as they burst through the middle, the Eagles allowed them to feed their prime target, Grant, or the plethora of players charging forward to give an option.
Grant's three first-quarter goals gave the home side the perfect start.
While West Coast blew their early chances, kicking 1.4 with their first five shots at goal, Grant kicked 3.0 for the quarter on his way to 6.0 for the game.
It left the Eagles 29 points down at quarter time and that deficit meant from then on, the game was played on the Bulldogs terms."
Players in the WAFL
Edit
Round 20 (5-6 August)
South Fremantle (Gaspar, Graham) vs East Fremantle (Green)
Claremont (R.Jones, Wilkes) vs Swan Districts. M.Embley played reserves
Subiaco (Wooden) vs Perth (Butler)
West Perth (LeCras, Sharp) vs East Perth (Humm, Beeck)
Bye: Peel
Injury list
Edit
In the lead-up to the round the following players were listed as injured:
http://afltables.com/afl/stats/games/2005/071820050806.html
David Reed, The West Autralian (8 August 2005, p. GAM5), "MCG a raw nerve for shaky Eagles"