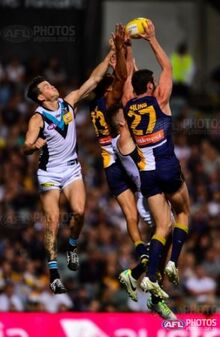 Darling was one of West Coast's best. Photo: aflphotos.com.au
Score
PA 10.10.70 - 7.14.56 WCE
West Coast battled hard for three quarters but were wasteful in front of goal and it came back to haunt them in the fourth, with Port Adelaide running over the top to come away with a 14 point win. Forward Jack Darling was busy but inaccurate, and Jamie Bennell provided good run from defence.
| | | 1/4 time | | 1/2 time | | 3/4 time | | Final |
| --- | --- | --- | --- | --- | --- | --- | --- | --- |
| West Coast | | 2.5.17 | | 5.8.38 | | 6.12.48 | | 7.14.56 |
| Port Adelaide | | 3.5.23 | | 5.6.36 | | 7.7.49 | | 10.10.70 |
Goals: Darling 2, Cox, Cripps, Kennedy, Masten, Wellingham
Best: Darling, Priddis, Bennell, Glass, Hutchings, Shuey, Rosa
Injuries: Ellis (calf)
Reports: Glass for rough conduct on C.Wingard
Sub: Sheed for Ellis (calf)
Named side
Edit
In: Glass, Masten, Shuey, Rosa, Hutchings
Out: Butler, Colledge, McGinnity, Schofield, Lycett
From the papers
Edit
The West Australian
Edit
"The free-running style of the first half disappeared in the second, with both sides opting to hold possession and wait for gaps rather than take the game on.
It was working for West Coast early, with the club's staunch defence typified by a courageous hard-ball get from Sheppard in the defensive 50 which saved a certain goal to Port.
A goal to Chris Masten after 14 minutes broke the deadlock and gave the Eagles a 10-point lead.
However a two-goal cameo from Robbie Gray swung the lead back in favour of Port and saw them take a one-point lead into the final change.
The fourth quarter was a battle of wills, with both sides out on their feet."
"Port Adelaide benefited from fresh legs late in its game at Patersons Stadium on Saturday night to beat West Coast by 14 points.
The Power was able to sub Aaron Young into the game at three-quarter-time, more than two quarters after the Eagles were forced to bench Xavier Ellis.
Port's Chad Wingard gave the Power a match-winning 14-point lead 11 minutes into the final term after receiving a free kick that could see Eagles captain Darren Glass sidelined for several weeks.
The Power kicked five of the last six goals of the game, including four in the final term."
Herald-Sun
Edit
"West Coast cut the margin to six points by quarter-time, and they entered the long break with a two-point lead after fine work from Priddis and Darling.
Priddis tallied 13 possessions for the term to give West Coast the edge in the midfield, while Darling's frenetic pressure up forward was rewarded with two goals.
The third quarter was a goalless arm wrestle for the first 14 minutes before a magic piece of work in defence from Jamie Bennell set up a goal for Masten.
Two goals from Port Adelaide forward Robbie Gray gave the Power a one-point edge at the final change, and a few dubious umpiring decisions cost West Coast dearly in the last quarter."
East Perth report
Edit
The Royals fought back from a big early deficit and led at the final change but were held goalless in the final quarter as Subiaco claimed a four goal win. Scott Lycett was outstanding with 5 goals while spending time in the ruck, and Jeremy McGovern again performed well in his new role as a defender.
Appearing for East Perth: Brennan, Butler, Carter, Colledge, Karpany, Lycett, McGinnity, McGovern, McInnes, Sinclair(*first East Perth appearance), Smith, Tunbridge, Wilson. Reserves: Barrass, Maginness, Main, Powell
Injury list
Edit
In the lead-up to the match the following players were listed as injured:
| Player | | Injury | | Expected duration | | |
| --- | --- | --- | --- | --- | --- | --- |
| Waters | | Shoulder | | Season | | (on LTI 17/4/14, replaced on list by Sinclair) |
| LeCras | | Arm | | 3-4 weeks | | |
| Hurn | | Knee | | 3-4 weeks | | |
| Barrass | | Hip | | Test | | (on LTI 23/1/14, replaced on list by Sinclair on 20/3/14, |
| | | | | | | removed from LTI 17/4/14) |
| Masten | | Hamstring | | Test | | |
| Selwood | | Ankle | | Test | | |
| Glass | | Hip | | Test | | |
| Rosa | | Ill | | Available | | |
| Newman | | Jail | | Season | | |
http://afltables.com/afl/stats/games/2014/131820140419.html
http://www.afl.com.au/match-centre/2014/5/wce-v-port
Nick Rynne, The West Australian (19 April 2014), "Strife for Eagles in Power loss": https://au.news.yahoo.com/thewest/sport/afl/a/22757059/strife-for-eagles-in-power-loss/
Brad Elborough, The Age (20 April 2014), "Fast-finishing Port powers clear": http://www.theage.com.au/afl/afl-match-report/fastfinishing-port-powers-clear-20140419-36y60.html
AAP, Herald-Sun (19 April 2014), "Port Adelaide shores up top-eight credentials with come-from-behind win over West Coast": http://www.heraldsun.com.au/sport/afl/port-adelaide-shores-up-topeight-credentials-with-comefrombehind-win-over-west-coast/story-fni5f9de-1226890155193